HARDWOOD BOG MATS
Hardwood bog mats offer the most effective means of ground protection - ensuring safe access for personnel, machinery and materials with the minimum of intrusive damage. Also known as crane mats, navvi mats, Ekki Mats and timber mats, bog mats are useful for all types of vehicles when the ground is uneven or difficult to manoeuvre on.
Our standard sized bog mats are 1m x 5m, however, our sawmill facilities enable us to offer timber mats manufactured to any size, with a quick turnaround time. Our bogmats can vary from 75mm which are suitable for light construction equipment, up to 300mm which can be used for heavy cranes and machinery. Our experienced sales team can help to make sure we can meet your projects requirements.
We can offer new or used bogmats in a variety of species which can be delivered or collected from one of our various depots nationwide. Our bogmats can be supplied FSC certified, we also offer a buy back option on purchased mats, subject to their condition.
You can hire timber mats to create a steady surface on muddy or slippery ground. As a supplier of timber bog mats, we have different specifications, so please take a look at the hardwood mats specification sheet below to find out what might be best for you. If you have specific requirements for bogmats or you are unsure of what is required, please get in contact with our sales team.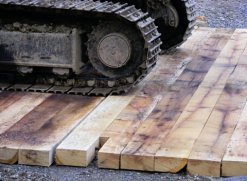 Hire or Purchase Bog mats
We offer various types of mats, including European hardwood, Ekki bog mats, crane mats, Navii mats, crane pads and recycled plastic mats.
Our bog mats are available to purchase or hire, with delivery available throughout England, Scotland, Wales and Europe. Contact our sales team today to discuss your requirements on 01683 221082 or email us on info@ryderservices.biz.