PALISADE FENCING
Palisade offers a simple yet robust barrier which is available in a variety of specifications. Palisade is the most popular choice for high security areas.
Ryder Services stock a variety of palisade fencing and gates in D or W profiles, with various pale head types, including splayed, round top and single point.
We can supply either single or double palisade gates.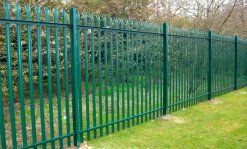 Fencing
We offer fencing and landscaping products for delivery throughout the UK and Europe from our various depots. For more information on our products, contact our sales team on 01683 221082 or email us on info@ryderservices.biz.
We also stock a wide range of hardwoods which can be cut to any specification to suit your fencing or landscaping requirements.