PALISADE FENCING
Palisade fencing is strong and durable, it offers a simple yet robust barrier which is available in a variety of specifications. Palisade is the most popular choice of fencing for high security areas.
Ryder Services stock a variety of palisade fencing and gates in D or W profiles, with various pale head types, including splayed, round top and single point.
We can supply either single or double palisade gates.
Designed to provide security and protection in a wide range of outdoor locations, palisade security fencing can be erected on hard ground like concrete by using steel bolt down posts, or on softer ground like grass, where dig-in posts are set within the ground. Palisade fencing is designed for permanent installation and can also be installed on both level ground and sloping ground which has a gradient no greater than 30 degrees; as it can be assembled to run parallel to the ground without the need for stepping.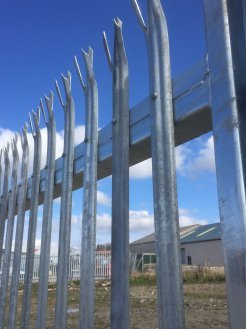 Fencing
We offer fencing and landscaping products for delivery throughout the UK and Europe from our various depots. For more information on our products, contact our sales team on 01683 221082 or email us on info@ryderservices.biz.
We also stock a wide range of hardwoods which can be cut to any specification to suit your fencing or landscaping requirements.